News and Updates
Vote Yourself a Job
by Doug Brown, IPWU State President 10/01/2018
Have you read the news? The Trump Administration wants to privatize the United States Postal Service. In case you haven't heard, President Trump, by executive order, created a task force to recommend an overhaul of the postal service. As part of a broad effort to privatize government services, the USPS has been targeted for dismantling. Even though the postal service enjoys a 90% plus favorability rating among customers, apparently we were placed in the category of "swamp" and must be drained.

What would privatization mean for you as a postal employee? Wal-Mart, plain and simple! The wages and benefits you currently earn would be gone. The postal service advertises your employment package as a wonderful gift from day one. New employee recruitment posters brag about the insurance, retirement, and of course, the salary. We have a lot of new members in our union and perhaps there is a belief the employer just gives everything to the employees because they like us. Wrong! It has been fought for by the Union over generations of workers.

It is not just the rank-and-file who have benefitted from the union. Society as a whole benefits by raising the bar for workers. (Have you heard about the $15/hr. for fast food workers). If one of our sister unions get a raise, it helps the others fight for parity. Postal management may not like to admit it but they get a raise when we do.
It can all be taken away with a vote in Congress. Collective Bargaining can be stripped along with our retirement and insurance. $25/hour wages can be reduced to the federal minimum of $7.25/hr. Our only protection is a labor-friendly Congress and your union.

The AFL-CIO has a list of recommended labor-friendly candidates for the upcoming and all-important November election. The endorsements are not party based. All candidates completed an extensive questionnaire detailing their position on issues relating directly to workers rights and the labor-movement. Please go to the website inaflcio.org and review the "Labor 2018 Candidate Endorsements". Candidates are chosen with a vote of the Indiana AFL-CIO affiliate unions, representing over 300,000 working Hoosiers.

Lastly, we say our goodbyes to Martha Foote, State Business Agent and Cheryl Barnes, spouse of Ben Barnes, former State Vice President, . They will be missed.

In November, "VOTE YOURSELF A JOB".
________________________________________________
In Memoriam of Martha Foote
09/20/2018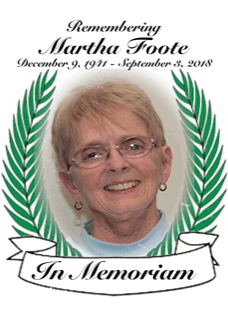 Indianapolis Area Local, General Secretary/Treasurer Martha Foote passed away on September 3, 2018 at the age of seventy-six.

Martha was a dedicated unionist, throughout her over thirty-three years working with and for the Indianapolis Area Local APWU. Starting her career in the Post Office as a Rural Carrier, she transferred to the Clerk Craft in 1985. Martha served in many capacities with the union, including Executive Vice President, Assistant Craft Director, Associate Office Coordinator, Trustee, Recording Secretary, Steward, and Delegate to many National and State Conventions. She worked on and with many committees. Martha was a P.O.W.E.R. (Post Office Women for Equal Rights) Sister. She was instrumental while serving on the local negotiations committee to negotiate several key items in the Associate Office LMOU's.

Martha was recently elected to a newly created Assistant Clerk Craft Director's position, where she served the Associate Office members (smaller offices outside Indianapolis), which had now grown to include seventeen offices. In January of this year she was appointed to take over the position of General Secretary/Treasurer. In addition to the responsibilities of her position at the local, and being retired from the Postal Service, she volunteered to become the Indiana Postal Workers Business Agent for District Six which served the 470, 471 and 472 zip code areas. She felt so strong about union membership, she continued as a Full Dues Paying Member of the APWU and became a member of the APWU Retirees. She was a skilled negotiator and a powerful advocate, who was always willing to share information and assist others in their struggle to maintain individual and union rights. Martha was known for her ability to communicate with others and trained several stewards on proper procedures and documentation. She also served as an Associate Editor for the Indianapolis' "IndyInfo" newsletter for several years.

A growing health concern took her to the hospital for what was intended to last only a couple weeks. Complications extended the time, but it didn't slow her down. Martha continued from her hospital bed to contact and represent members, asking only occasionally for assistance to complete tasks she couldn't from her hospital bed. Having her phone on her bedside table so as not to miss a caller and seeming to be recovering, she was looking forward to returning to work. She awaited that return, while not so patiently. Unexpectedly, circumstances abruptly changed, and she was rushed back to the ICU. With her family nearby, she passed away.

Many in her union family are saddened by her death, and our heartfelt sympathy and gratitude go out to her family, who shared her with us over her many years of dedicated service. We have all benefited from the passion, determination, and leadership of our friend Martha Foote. She will be missed by us all.

Her family has planned a memorial service for her for Saturday, September 29, 2018.
The Location information is:

The Creek @ Shelby Street
8435 Shelby Street
Indianapolis, IN 46227
Gathering: 1-3pm
Services: 3-4pm

If you wish to send cards of condolence please address them to:
The family of Martha Foote
6205 N 300 E
Whiteland, IN 46184

________________________________________________
National Reassessment Program Discriminated Against Injured Workers
WEB NEWS ARTICLE #: 34-2018
03/28/2018 - The time is now for all current and former permanent-rehabilitation and limited-duty postal employees who were subjected to the USPS National Reassessment Process (NRP) between May 5, 2006 and July 1, 2011 to file a timely claim with the Postal Service to seek monetary damages and other relief.
The Postal Service has exhausted all of its administrative appeals in the class action discrimination complaint, McConnell v. USPS. The EEOC's favorable decision, issued March 9, 2018, is final. The EEOC rejected the Postal Service's request for reconsideration after finding the NRP discriminated against injured postal workers and violated their rights under the Rehabilitation Act. The Postal Service is now required to comply with a number of orders listed in the final decision.
More than 130,000 individuals, many belonging to the APWU, may benefit from this decision. Individuals were not required to file an EEOC complaint to be part of the class but members of the class are required to file a claim within 30 days of receiving notice from the Postal Service to avoid forfeiting any potential relief. Survivors of deceased class members are eligible and encouraged to apply within the designated time limits. Notifications from the Postal Service were said to be mailed to all eligible class members on March 19 and 20.
The law firm who litigated the legal claims before the EEOC informed the APWU that they also made a mailing to all class members on March 24 and 26 that reportedly provides instructions and offers guidance with claim filing. If you did not receive a notification and you believe you should be part of the class, you can still submit a claim. The law firm encourages claims to be filed no later than April 12, 2018. The APWU was advised that this is the first step in the claims process. They have a dedicated website, where we are told individuals can find filing instructions including where to send a claim, suggested claim forms, and more detailed information about the case, the decision and the claims process. We were further advised FAQ's would be added to the site soon. The law firm has also indicated that it has launched a call center manned with paralegals to specifically offer assistance to claimants. For more information visit www.nrpclassaction.com; call (585) 272-0540 or toll free at (877) 272-4066; or consult an attorney of your choosing.
CAUTION: The APWU makes no representation about the accuracy or quality of the information being provided by the law firm. The claim form provided by the law firm commits claimants to being represented by these attorneys. Claimants should carefully review the terms of the retainer agreement, including how their chosen representative is paid. Claimants are not required to use a lawyer to make a claim. The APWU cannot endorse the use of any law firm to submit their claims and cannot give legal advice on making claims to the Postal Service or whether to retain legal assistance for any part of the claim process.
Thousands Gather in Pittsburgh to Oppose Postal Service Privatization -August 22, 2018
To see FULL SCREEN, click on the Full Screen icon in the right side of the video menu
President Dimondstein's Opening Day of Contract Talks - July 3, 2018
To see FULL SCREEN, click on the Full Screen icon in the right side of the video menu
President Dimondstein - ARE YOU FIRED UP AND READY TO GO? - June 30, 2018
To see FULL SCREEN, click on the Full Screen icon in the right side of the video menu
Ed Schultz USPS in danger of collapse
To see FULL SCREEN, click on the Full Screen icon in the right side of the video menu
One Union - Indivisible
To see FULL SCREEN, click on the Full Screen icon in the right side of the video menu